Fresher olive oil is better for you.
The antioxidant-rich polyphenols found in olive oil are highest at the time of harvest.
Over time, light exposure breaks down polyphenols, lowering the oil's health benefits.
We partner with family-run California farms that grow heirloom olive varietals selected for flavor. The olives are harvested early and cold-pressed within 90 minutes of harvest. The result? Extra virgin olive oil full of grassy, peppery flavor unlike any other.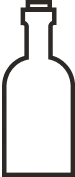 We only sell oil from the most recent harvest, and never mix older oils in (a cost-cutting practice common in the industry). Each bottle is labeled with its Harvest Date, and coated to protect the antioxidant-rich oil inside from light damage.
No transatlantic journeys
Unlike imported olive oils with weekslong overseas journeys before they even reach a wholesaler, our oils are pressed hours from our warehouse, where they're shipped fresh to your door.
Up to 5x the antioxidants
The polyphenol count in olive oil is highest at harvest. High quality, early-harvest olives and minimal travel time mean Brightland extra virgin olive oils have a polyphenol count of 500-750+ mg/kg (vs 100-150 mg/kg in conventional olive oil).
Brightland oils are the freshest you can find—
with up to 5x the antioxidants.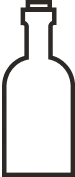 Every bottle is labelled with its Harvest Date, and designed to reflect UV light to protect the antioxidants inside. We only sell oil from the most recent autumn's harvest.
Unlike imported olive oils with weekslong overseas journeys to even reach a wholesaler, Brightland oils are crafted just hours from our California warehouse, where they're shipped directly to your doorstep.
This means our olive oils have a polyphenol count of 550-750+ mg/kg (most olive oils range between 100-150 mg/kg).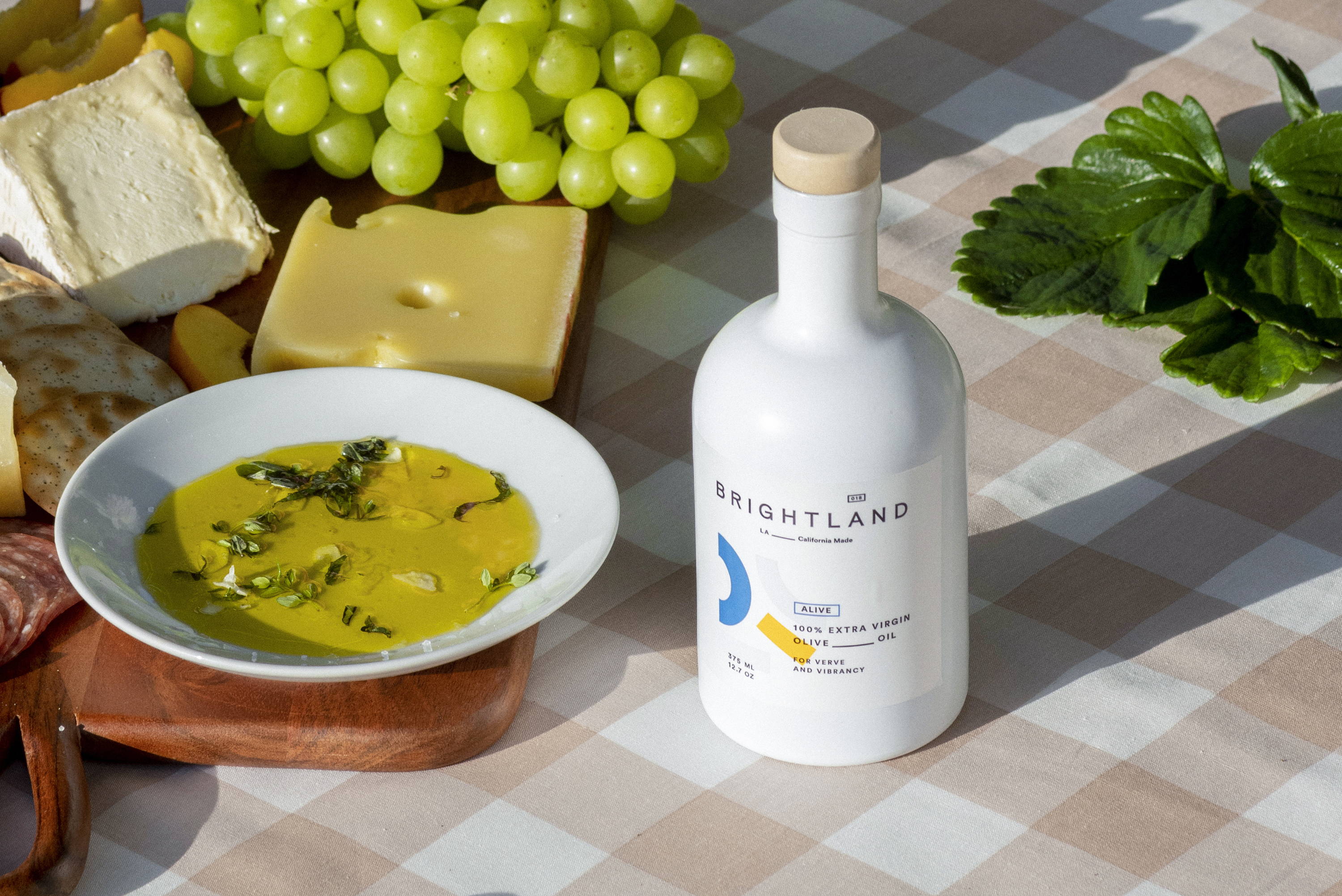 Fresher olive oil tastes better.


"A lot of the oils I'd been using were made with impure olives, or being doctored with cheaper oils. And maybe this is why I never thought 'good olive oil' was all that 'good.' But after trying Brightland, I find myself unable to use another olive oil. It just wouldn't do any of my cooking justice."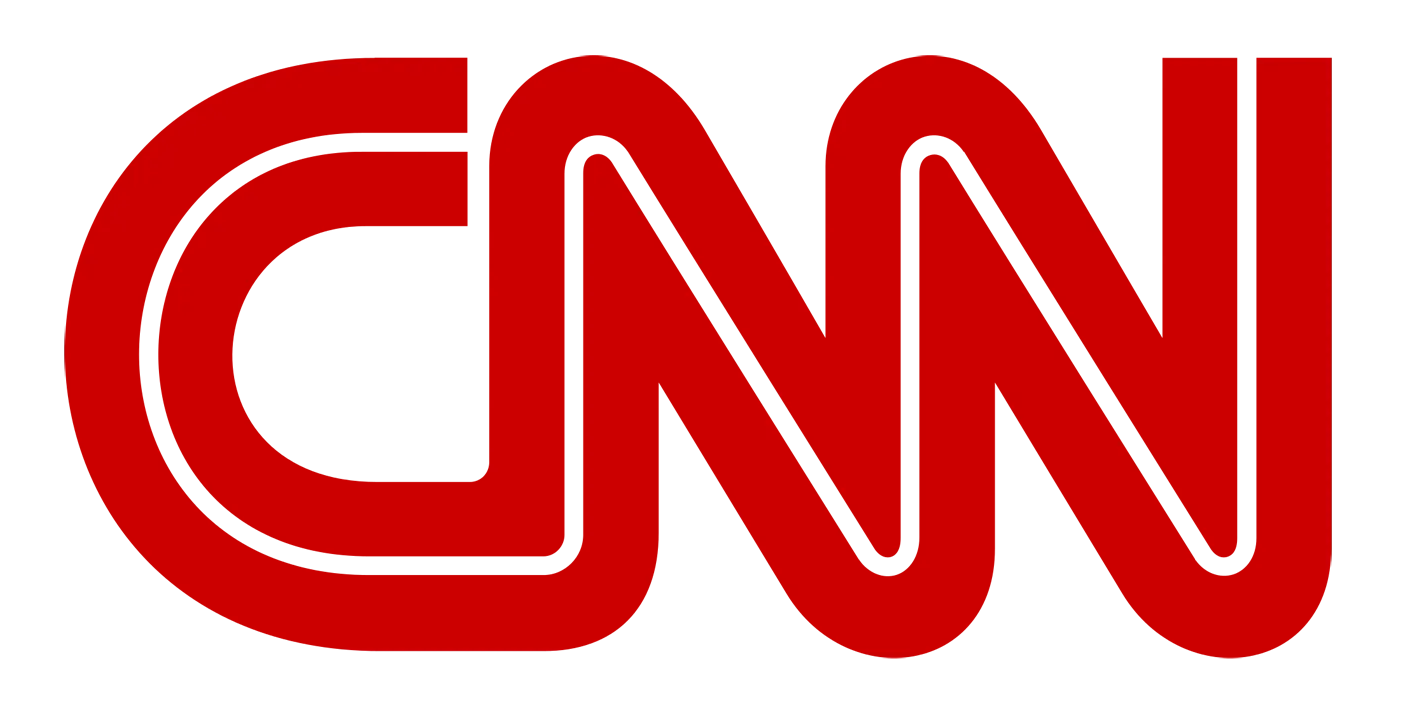 "Normally I use a basic olive oil when I'm meal prepping, but I swapped out for AWAKE, and it made a huge difference in the moisture and flavor. Because of the higher smoke point, I was able to get a nice crispness to the chicken, and AWAKE imparted a smooth, nutty flavor."

"It's vibrant, smooth, nutty, and incredibly fresh. The scent of aromatic olives radiates out of the bottle as soon as you open it, similar to an aromatic wine. If it tastes fresher to you than other olive oils, that's because it is."
New to Brightland? Start with The Duo.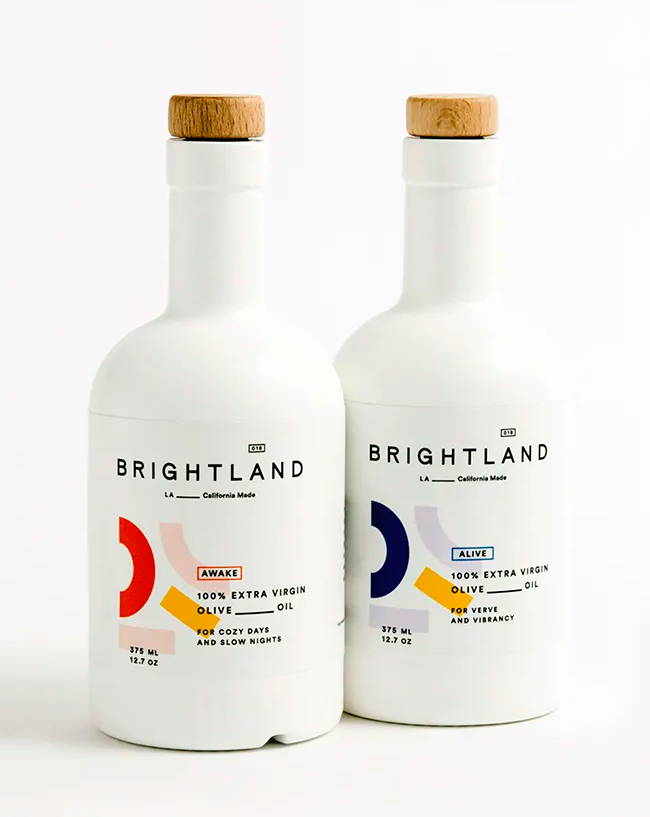 Two varietals of extra virgin olive oil, each with its own flavor profile, paired together to round out your kitchen.
AWAKE is full of grassy, herbaceous flavor, and best enjoyed with cozy soups, hearty pastas, and warm breads. (Polyphenol count: 774 mg/kg)
ALIVE is a smoother, nuttier varietal, perfect for salads, greens, hummus and baked goods. (Polyphenol count: 585 mg/kg)
Layer on even more flavor with our garlic, chili, basil, and lemon infused olive oils, or pair with our fruit-forward vinegars.
Fresher olive oil is more versatile in the kitchen.
At its freshest, extra virgin olive oil is low in free fatty acids. This gives it a surprisingly high smoke point of 400+˚F.
Delays between picking and pressing and exposure to heat increase free fatty acids and decrease smoke point.
Brightland's rigorous standards keep free fatty acids low and smoke point high.
Within 90 minutes of picking, our olives are brought to an on-site mill, pressed into oil, filtered, and stored in a temperature-controlled room.

Brightland's process keeps free fatty acids low, so our oil has a smoke point of 410˚F. Sear, stir-fry and oven-roast freely, without turning to lower quality options (like refined olive oil) that sacrifice on both flavor and health benefits.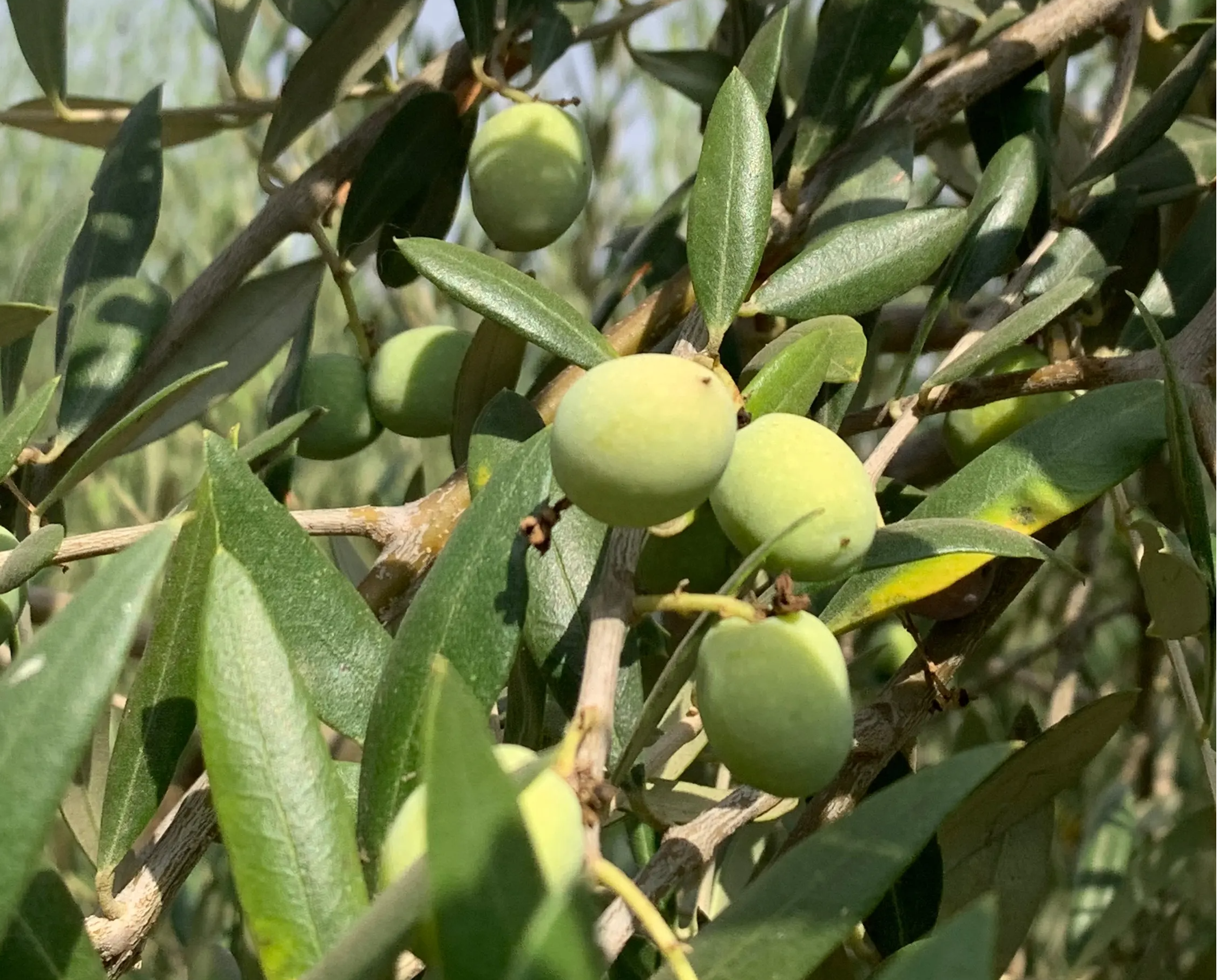 What Our Customers Are Saying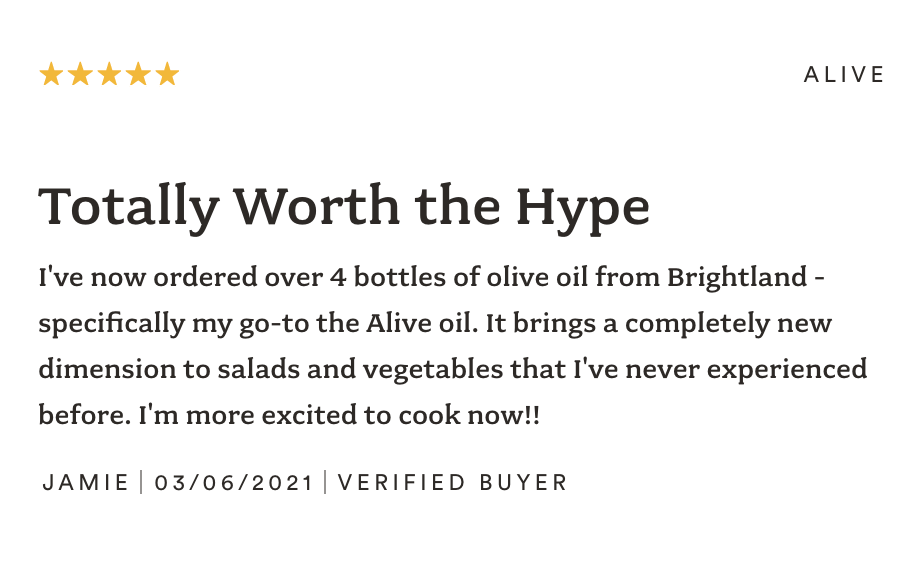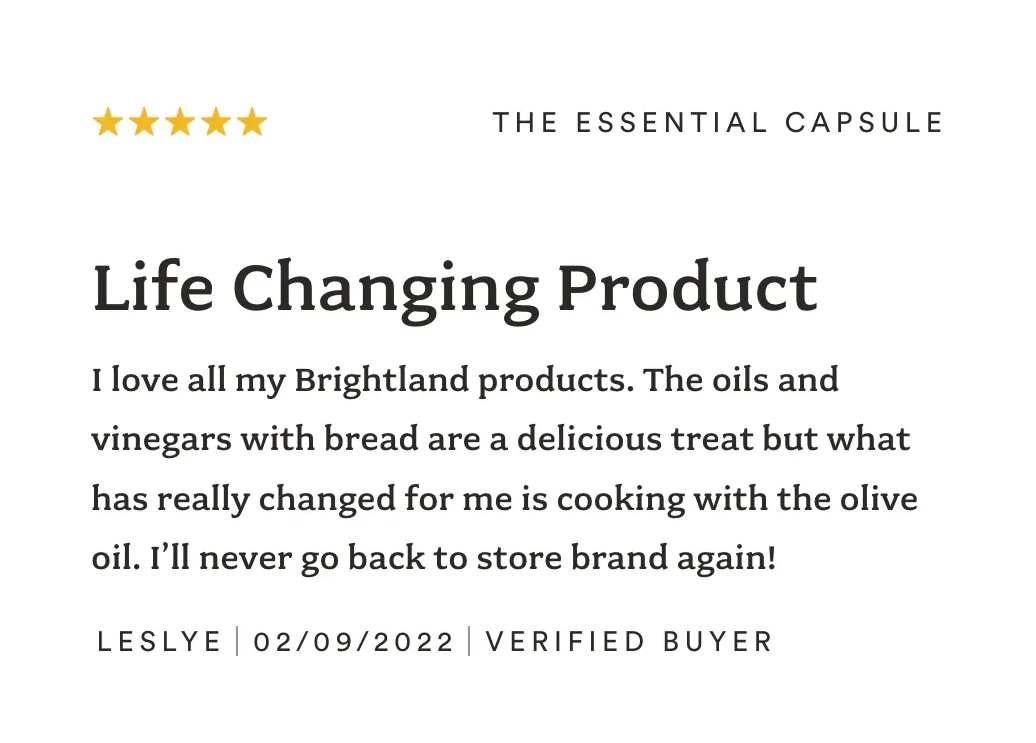 For the full upgrade, shop The Essential Capsule.
AWAKE and ALIVE, our best-selling extra virgin olive oils, each have a unique flavor profile and place in the kitchen. We've paired them with two raw, fruit-forward vinegars for a capsule versatile enough to become the backbone of your pantry.  
Together, this foursome is guaranteed to to bring freshness and zing to virtually anything your kitchen dishes out.