Why Brightland?
Brightland was born to elevate the simplest moments in your kitchen — the dashing, drizzling, dipping, dousing, and even drenching. We are on a mission to celebrate conscious cooking and intentional living. When it comes to Brightland, we pride ourselves on locally-sourced ingredients, crafting our olive oils and vinegars on family-run farms in sunny California.
The Duo
Our two bestselling extra virgin olive oils, paired together to balance and round out your kitchen.
View More Details
A GIFT THAT SAYS "OLIVE YOU"
Like nothing we've eaten before—it's fresh, it's got flavor, and it's making us question what we've been buying at the grocery store all these years.

You spoiled me - Once I tasted how real olive oil is supposed to taste, I will NEVER be able to go back to store bought again!

The flavored olive oils are simply outstanding. Lemon and chili were my favorite until I tried the basil in a homemade soup — it took it to a new level.

Olive oils of exceptional high quality, and the honey, well, I have never had honey nearly as good, bursting with delicious flavor.

I picked up both vinegars and thought I had gone to heaven. Never have I had a vinegar that was so smooth that I could use on salad without oil.

I work as a chef and have tried many olive oils. Brightland is my top choice! It's crisp, bright and rich in flavor. Fabulous!
Cold-pressed within 90 minutes of harvest. 
Sourced from small family-run farms in sunny California.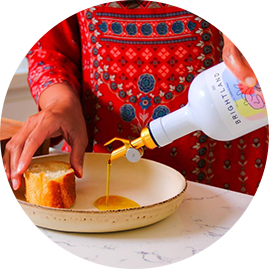 Non GMO and rich in antioxidants.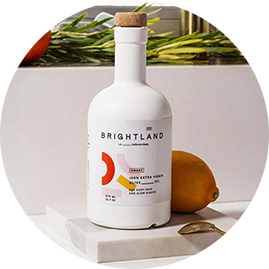 Made with early-harvest olives for optimal flavor.
"Extraordinary olive oil makes a great gift for kitchen novices and experts alike."
"Brightland appears like a ray of sunshine compared to traditional olive oil brands."
"This small-batch olive oil looks good on the counter, and a drizzle tastes as delicious on kale salad as it does on sorbet ."
"This Editor-Loved Olive Oil Set Has Sold Out 3 Times, But It's Finally Back in Stock."

| | | Other Oil Brands |
| --- | --- | --- |
| No fillers or artificial preservatives | | |
| Clean ingredients | | |
| Sourced from family-run farms | | |
| UV-coated glass bottles | | |
| Always from the most recent harvest | | |
| Vegan, Gluten-Free, Non GMO | | |
The Artist Capsule
A $160 Value
The Artist Capsule
Set of all four infused olive oils: LUCID lemon, ARDOR chili, ARISE basil, and ROSETTE garlic, with special artist-designed labels.
View More Details
FEATURED ON
OPRAH'S FAVORITE
THINGS 2022