Check out today for 10% off your order
Taste the Difference
Tastier home cooking starts with fresh, high quality ingredients. Brightland olive oil is cold-pressed from early-harvest California olives, selected for flavor, and always from the most recent harvest.
Upgrade your pantry
The Duo
Best Seller
The Duo
Our two bestselling extra virgin olive oils, paired together to balance and round out your kitchen.
View More Details
A GIFT THAT SAYS "OLIVE YOU"
Awaken to the new gold standard
With Brightland, you know exactly what you're getting - authentic olive oils, vinegars, and honey that are never rotten, overprocessed, or fraudulent. All sourced from small family-run US farms, with absolutely no fillers or artificial preservatives, and packed with exceptional flavor.
Shop Now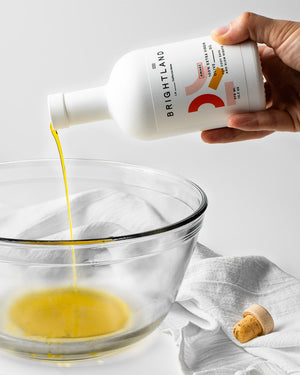 Bask in the sunshine
In olive oil, freshness means flavor and health. Antioxidant-rich olive varietals, local sourcing, and minimal travel time mean our oil stays extra fresh—from tree to bottle. The result? Brightland olive oil tests at 5x the polyphenol count of most storebought oils.

Every UV-coated recyclable glass bottle is labeled with a Harvest Date, so you can know you have the freshest oil possible.
SHOP OILS
"Like nothing we've eaten before—it's fresh, it's got flavor, and it's making us question what we've been buying at the grocery store all these years."

"You spoiled me - Once I tasted how real olive oil is supposed to taste, I will NEVER be able to go back to store bought again!"

"The flavored olive oils are simply outstanding. Lemon and chili were my favorite until I tried the basil in a homemade soup — it took it to a new level."

"Olive oils of exceptional high quality, and the honey, well, I have never had honey nearly as good, bursting with delicious flavor."

"I picked up both vinegars and thought I had gone to heaven. Never have I had a vinegar that was so smooth that I could use on salad without oil."

"I work as a chef and have tried many olive oils. Brightland is my top choice! It's crisp, bright and rich in flavor. Fabulous!"
Brightland was born of a desire for better, more honest food production.
Our consciously crafted products support small US family farms and makers. Our extra virgin olive oils are lovingly made in California with heirloom olives cold-pressed by a master miller within 90 minutes of harvest. Our fruit-forward vinegars are double-fermented with ripe fruit grown on a nutrient-dense family farm on the Central Coast. Join us in our mission to live in a golden state by celebrating everyday elegance, endless curiosity, and being fully engaged in the present.