INTRODUCING
The Paragon Collection
A new collection dedicated to providing a delicious sense of place. Featuring small batches of one-of-a-kind olive oils from far and wide, in partnership with small producers committed to their craft.
SHOP CASTELVETRANO
About The Paragon Collection
Like wine, there are hundreds of different olive varietals that are grown around the world and can be used to make olive oil. The qualities of the earth and water where the fruit is grown, commonly known as its terroir, determine the distinctive tasting notes. As our team samples small batches of exceptional oil made by craft producers far and wide, we are inspired to share these vibrant flavors, stories, and terroirs.
Small batches, big flavor
Through The Paragon Collection, we will highlight exceptional olive oil made by values-aligned producers far and wide. Each bottle will bear a special-edition label expressive of its origin. A very limited quantity of each oil in this collection will be bottled, and each bottle will be numbered.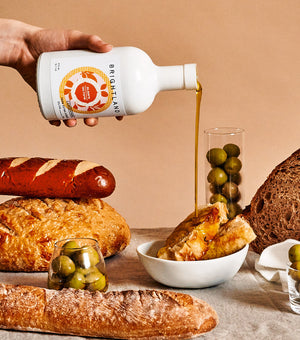 The first press
For the inaugural release in The Paragon Collection, we first looked in our own backyard. Made from the popular Sicilian snacking olive, Nocellara del Belice, CASTELVETRANO is an estate-grown, single varietal extra virgin olive oil. It is made from handpicked olives, harvested early and milled locally in Paso Robles, CA.
"When I began the journey to founding Brightland years ago,
I sampled a single-estate Nocellara del Belice olive oil from Paso Robles, California. This intensely grassy, peppery Sicilian style olive oil made a lasting impression on me, especially as a Castelvetrano snacker and lover. I've always wanted to share this unique cultivar with the Brightland community and am thrilled to do so with the inaugural launch in our new Paragon Collection."

— Aishwarya, Brightland Founder & CEO