Like it hot?
Spice up the kitchen
Bold and smoky ARDOR chili olive oil is infused with four different peppers for nuanced, layered heat. From scrambled eggs to noodle soups, we have yet to meet a dish it doesn't bring to a new heights.
SHOP ARDOR
Ardor
Ardor
Made with red chili peppers, jalapeño peppers, chipotle peppers, paprika and Frantoio olives grown on small family farms in California.
Spicy Warming Cayenne Paprika
View More Details
"Wow. Wowowowow. The chili oil.I can not express this enough - THE CHILI OIL. HUILE D'OLIVE = WILL TO LIVE OMG CHEFS KISS. On avo toast. On popcorn. In your red sauce. Mixed into a veggie pan roast. On eggs. On cheese. As salad dressing. Buy it for literally everyone you know—they will be thanking you."

"Amour Ardor! My wife and I LOVE the Ardor chili olive oil. We use it in everything. It is not just our 'go to', it is literally the only thing needed to cook up a 1 pot pasta dish."

"We are OBSESSED! We bought the chili oil for ourselves and gift boxes for family. It tastes wonderful and feels like such a treat over avocado toast, in salads, and with bread."

"I love the chili oil. It's great for bread / soup. We have been putting it in a carrot ginger soup and it really elevates all the flavor. I will definitely be buying another one."
It's all in the olive
We partner with family-run California farms that select olive varietals for flavor. Our infused olive oils are made with Frantoio olives, known for producing incredibly fruity, aromatic oil. The olives are harvested early and pressed within 90 minutes for peak freshness and flavor.
SHOP INFUSED OILS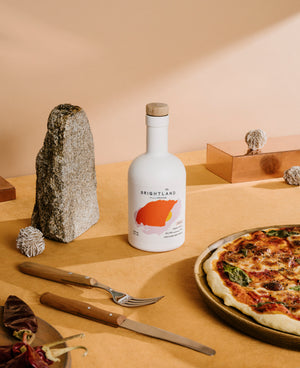 Designed for freshness
We only sell oil from the most recent harvest, and never mix older oils in—a cost-cutting practice common in the industry. We bottle in glass, not plastic, to protect the oil from exposure to air and keep it fresh.

Each bottle is UV-coated to protect the antioxidant-rich oil inside from light damage, and labeled with a Harvest Date—so you can know you have the freshest oil possible.
SHOP ALL OILS
No transatlantic journeys
Working with local California farmers means supporting our community, transparent supply chains, and fresher, more flavorful oil. Unlike imported olive oils with weekslong overseas journeys, our oils are pressed just hours from our warehouse, where they're shipped fresh to your door.
SHOP ALL OILS