Entertaining Tips for a Sunday Lunch
Our Chef in Residence (and host extraordinaire), Noreen Wasti, is spilling her tips and tricks for how to host the ultimate Sunday lunch — just in time for Mother's Day. Read on for entertaining inspiration!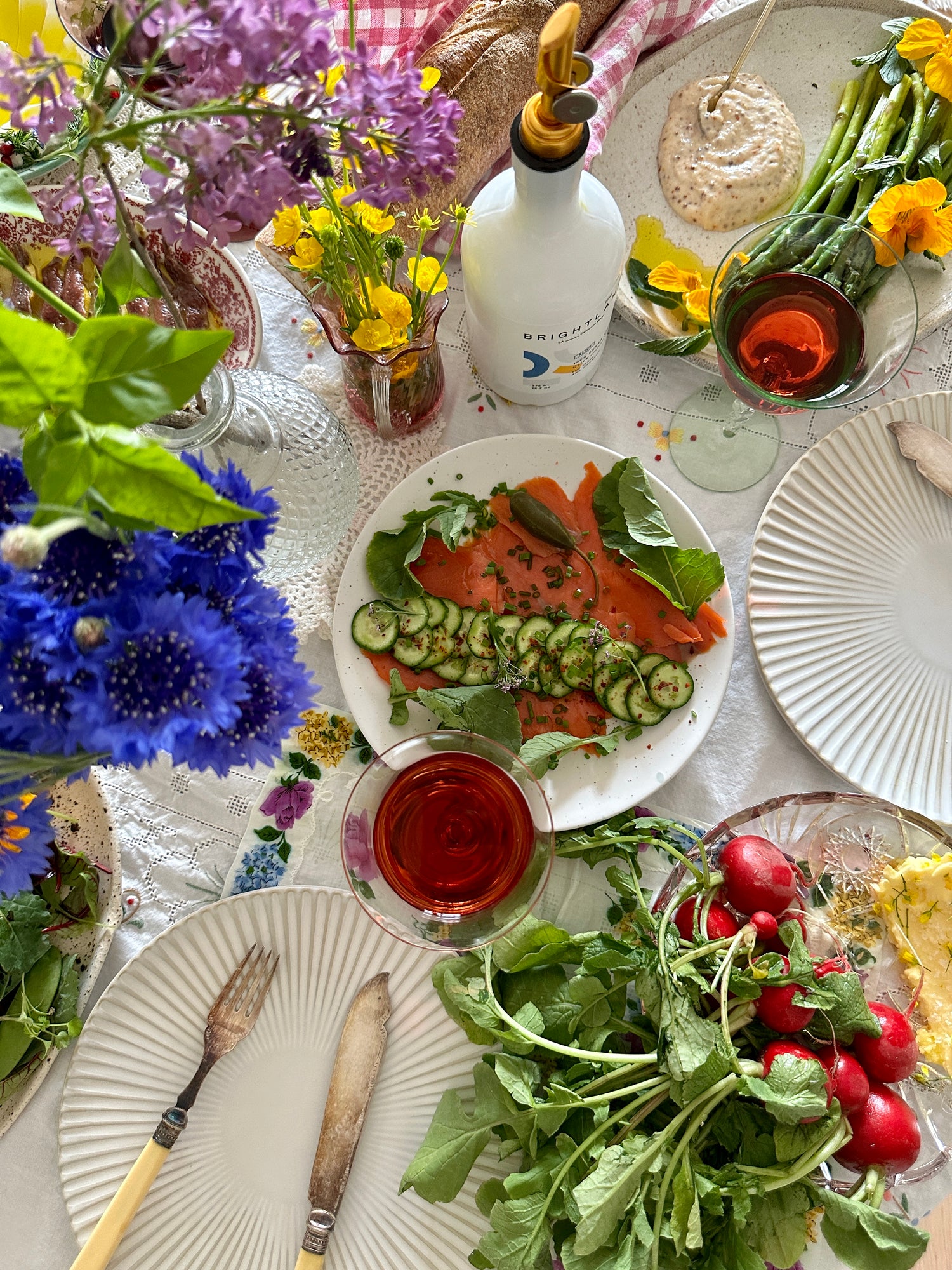 "I truly love hosting and entertaining. I relish in the planning, effort, and love that goes into a beautiful meal and an abundant table that's shared with others. Wine-stained tablecloths, a mishmash of unmatched tableware, and bright florals to adorn. I think people feel overwhelmed to entertain at home and dwell on perfection, but I find the imperfections of a gathering to be most memorable.
It's nice to make your guests feel special and taken care of in your home. Sure, there are plenty of moments that require ordering a pizza and calling it a day, but there are also moments that call for cooking a nice meal and setting the table for someone. These are my tips for doing just that." - Noreen Wasti
1. Seasons
If you live in a place with access to seasonal produce, embrace it. Every season evokes certain feelings, and I love to stir those emotions by cooking things that represent whatever time of year it is. Zingy alliums in the spring, juicy tomatoes in the summer, warming squash in the fall, hearty root vegetables in the winter.
2. Graze
I love a little grazing situation for lunch, it feels more laid back for the daytime and encourages lots of dipping and munching. You can serve dips like labneh, hummus, whipped feta, your favorite cheeses, tinned fish, warm olives, crunchy vegetables, a simple green salad with shaved parm, bowls of olive oil for dunking, salted butter for spreading, with a big loaf crusty bread, and I guarantee that your guests will be happy and stay awhile snacking away.
3. Set the table the day before
Set your table the day before, it really helps to make the day of less hectic. I love a tablecloth moment and will usually pick something embroidered and delicate. Don't overthink the florals, get 1-2 bunches of your favorite flowers, trim and pop them into smaller vases. Keep it loose and romantic. Lean a pretty pear or tomato against the vases depending on the season, bundle some herbs with a ribbon and place them in a small jar with water too. For serveware I am all about the mix and match. Contrary to what you've been told, you do not need a full dining set. I always go with an eclectic and colorful assortment of plates, platters, cutlery, and glasses instead.
4. Garnish
It wouldn't be me without a little garnish. I love to use spices like Aleppo pepper, za'atar, and sumac, flaky salt, tender herbs, edible flowers, and olive oil to finish a dish. It just adds a little oomph and always looks stunning. A trick for garnishing with herbs is to gently pluck them and keep them leafy, chopping finely can look a little formal.
5. Ask for help
No shame in asking a friend to bring some wine or a bag of ice. If someone offers to do the dishes, it's okay to say yes. You don't have to do it all, and it's nice to be present and sit with your guests.
6. Don't underestimate the power of a cake
Trust me, everyone loves a cake. Find a reliable and simple single-layer vanilla cake recipe (double it if you're feeling up to it), make some whipped cream, put some nice fruit on top and you're done. It's easier than making chocolate chip cookies imho and who doesn't want a slice of cake at the end of the meal? It looks pretty and everyone's happy.