Our Chef in Residence (and host extraordinaire), Noreen Wasti, is spilling her tips and tricks for hosting a casual, festive Friendsgiving. Read on for entertaining inspiration!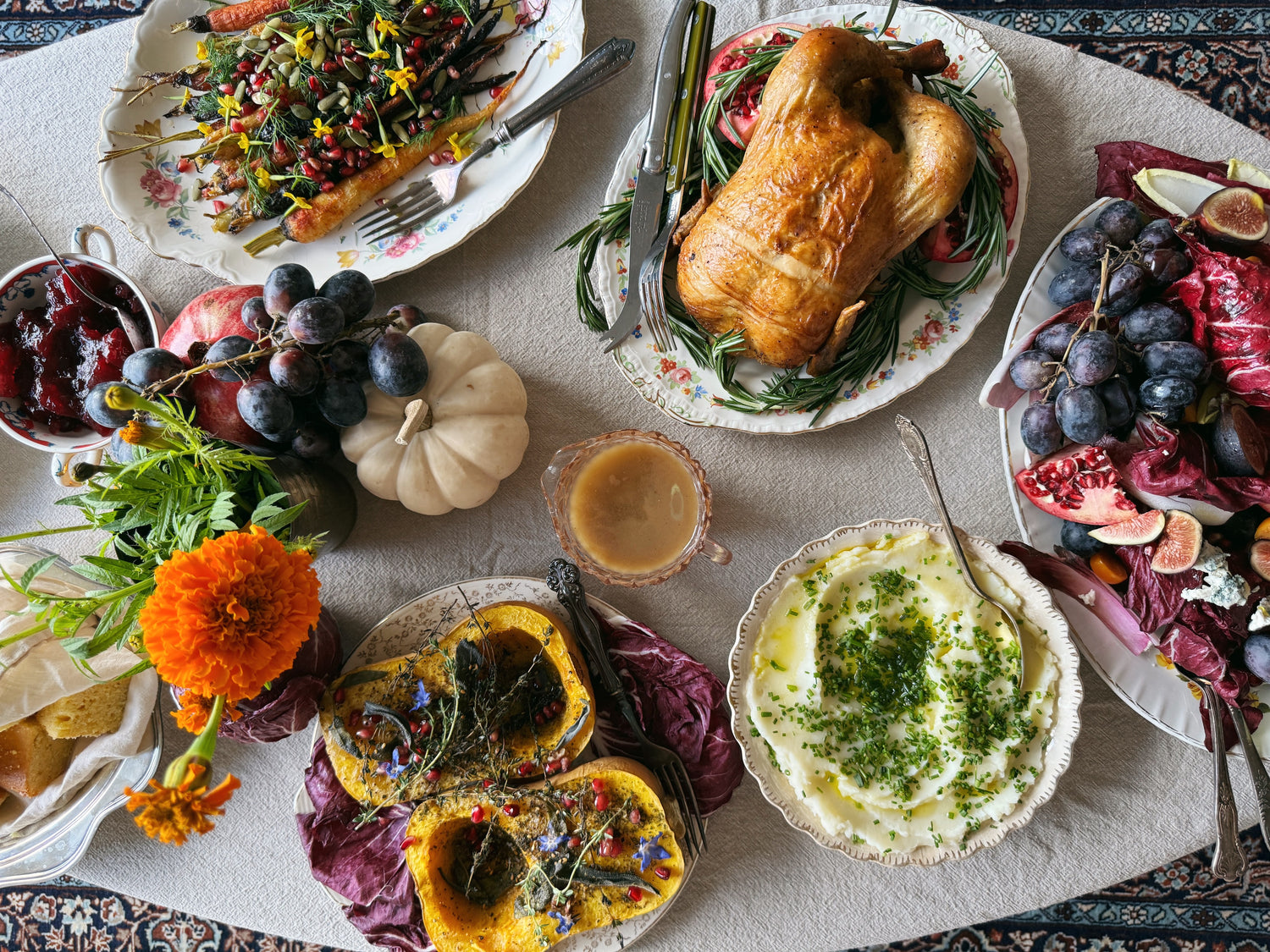 "Entertaining season is upon us, and Friendsgiving is such a great, low-lift way to celebrate the holiday. It allows you to be the host without the stress that sometimes comes with that role. A potluck-style Thanksgiving meal means everyone brings a dish, and you can spend time enjoying the meal with good friends and good food. In that communal spirit, here are some tips to ensure a cozy and successful Friendsgiving." - Noreen Wasti
1. Plan Ahead
Your goal here is to minimize any unnecessary stress. Start delegating dishes to friends at least two weeks in advance. Map out all the items you're going to need and who will handle each one best. Think about what you, as the host, want to cook, and then assign the rest, from sides to the main course, dessert, and drinks. Don't forget the ice!
2. Rotisserie Chicken Queen
If you love spending two days stressing about a turkey, that's absolutely fine, but I think a few rotisserie chickens from your favorite grocery store are the way to go. You know they're going to be tender and perfectly cooked. A true crowd pleaser, everyone loves a rotisserie chicken! Serve them alongside a rich gravy, and it hits all the Thanksgiving notes.
3. Food-scape
A beautiful table setting really helps elevate a gathering. I love using seasonal produce along with flowers to create a sort of "still life" centerpiece. Autumn produce such as pumpkins, squash, apples, pears, persimmons, and pomegranates are perfect. Cluster them in the middle of the table with florals in between. Let some lean on each other and stack others for height. This works perfectly alongside mix-and-match plates with colorful glassware. Stunning!
4. Get Creative with your Space
City living can be a bit challenging for dinner parties, but don't let space limitations deter you. I have a really small dining table, so what I like to do is either use the kitchen counter or the coffee table as a makeshift "buffet." Put out all the food on family-style platters and then enjoy it around the dining table, on the sofa, on cushions on the floor—people can stand, so let it be loose and casual.
5. A Bakery Pie
If no one is up for making a pie from scratch, order a pie from a local bakery. More often than not, they have some incredible pie options. Pumpkin, apple, pecan—get them all!
6. Set a Cozy Mood
Throw a bunch of blankets onto the sofa, light some candles, and put the TV on with the 1973 classic "A Charlie Brown Thanksgiving" playing in the background. It's an adorable nostalgic touch.
7. Bestovers
Have containers or bags ready so your guests can take leftovers home. It's simply not Thanksgiving without leftovers!