Mince no more
Garlic lovers, rejoice
Your new secret weapon in the kitchen. (We won't tell.)

ROSETTE is a mouthwatering blend of buttery, fruity Frantoio olives and zesty garlic, balanced to perfection—pure garlicky goodness, without the garlic breath.
SHOP ROSETTE
Rosette
Rosette
Made with garlic and Frantoio olives grown on small family farms in California.
Roasted garlic Buttery Balanced Strong
View More Details
"I use the garlic olive oil for roasting vegetables and it makes them even tastier. So convenient!"

"I keep my Brightland Garlic olive oil right by the table so it's handy whenever I want it. On meat, veggies, salad, or to mix with juices left on the plate for my last bites of bread!"

"I tried Brightland's garlic infused evoo and fell in love with how flavorful it was. Though it feels like a slight splurge, it has certainly elevated my meals and has gotten me excited about preparing meals again."

"Exactly what I was looking for. The garlic is present, but not overpowering, providing complementary flavor to everything I've prepared."
It's all in the olive
We partner with family-run California farms that select olive varietals for flavor. Our infused olive oils are made with Frantoio olives, known for producing incredibly fruity, aromatic oil. The olives are harvested early and pressed within 90 minutes for peak freshness and flavor.
SHOP INFUSED OILS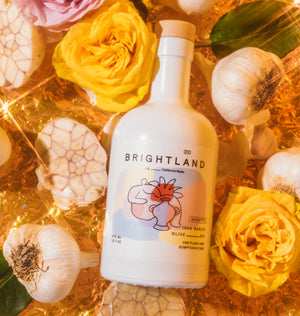 Designed for freshness
We only sell oil from the most recent harvest, and never mix older oils in (a cost-cutting practice common in the industry). We bottle in glass, not plastic, to protect the oil from exposure to air and keep it fresh.

Each bottle is UV-coated to protect the antioxidant-rich oil inside from light damage, and labeled with a Harvest Date—so you can know you have the freshest oil possible.
SHOP ALL OILS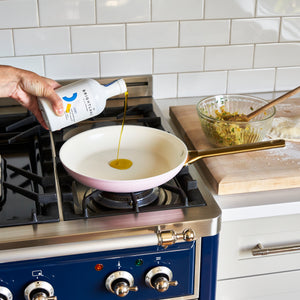 No transatlantic journeys
Working with local California farmers means supporting our community, transparent supply chains, and fresher, more flavorful oil. Unlike imported olive oils with weekslong overseas journeys, our oils are pressed just hours from our warehouse, where they're shipped fresh to your door.
SHOP ALL OILS